Seafarer training continues during the COVID-19 pandemic as the maritime academy celebrates 15 years of service
On June 7, a graduation ceremony at the NYK-TDG Maritime Academy (NTMA), a merchant marine university jointly operated by NYK and the Transnational Diversified Group (TDG)* near Manila, Philippines, was held for the first time since 2019 before the outbreak of COVID-19.

NYK President Hitoshi Nagasawa, Senior Managing Executive Officer Tomoyuki Koyama, and TDG Chairman J. Roberto C. Delgado, in addition to invited guests of honor that included Kazuhiko Koshikawa, ambassador extraordinary and plenipotentiary of Japan to the Republic of the Philippines, and Vice-Admiral Robert A. Empedrad, administrator of the Philippines Maritime Industry Authority, participated in the graduation ceremony. The dignitaries celebrated the graduation of the 10th NTMA class, totaling 134 students, who had successfully completed the curriculum after being greatly affected by the nearly two-year COVID-19 pandemic that affected onboard training.

In his congratulatory speech, Nagasawa commented on the activities of NTMA alumni during the COVID-19 crisis, saying, "Even during the widespread panic and fear, our seafarers mustered the courage and choose to continue doing what they could do. They stayed at the frontlines. As a result, NYK ships were able to provide the valuable service of ensuring the flow of essential goods. What our seafarers demonstrated was truly inspiring, and I have carried it close to my heart. For us at NYK, it was one of our proudest moments to have such very committed people. Our seafarers embodied the spirit of our company's basic philosophy, 'Bringing value to life.' And our new graduates are about to play a leading role in the future.

"The NYK ESG Story has just begun, and I invite all of you, especially our future marine officers, to learn about it and do your part to determine how we can contribute to fulfil the aspirations of our society for a better world. This path will lead us to sustainable growth that will bring benefit to the NYK Group as a whole. I ask that you to put your hearts into this commitment."

NYK was the first Japanese company to establish a maritime academy in the Philippines, and NTMA is currently celebrating its 15th anniversary since opening in 2007. The academy strives to produce high quality seafarers and has established a student loan program for students who might find it financially challenging to pursue such a degree. In addition to maintaining a high pass rate of the state examination for certification as a marine officer, NTMA has gained a strong reputation as a merchant marine school, having been accredited as Japan's first seafarer educational institution overseas under the institutional approval system established by Japan's Ministry of Land, Infrastructure, Transport and Tourism in August 2011.

A total of 1,252 students have now graduated from NTMA since the academy opened, and most graduates are actively engaged as officers or engineers on NYK-operated ships. In fact, in April 2021 an NTMA graduate rose to the rank of captain of an NYK vessel for the first time, and in April 2022 an NTMA graduate became the first from the school to reach the rank of chief engineer on an NYK ship. Additionally, many of our graduates are active in important land positions that play a role in safe ship operations, and their fields of activity have spread to important bases such as Japan, Singapore, and Australia.

In February 2021, NYK released the "NYK Group ESG Story," which aims to further integrate ESG into the company's management strategy and promotes activities that contribute to the achievement of the SDGs through business activities. In March this year, NYK released the updated "NYK Group ESG Story 2022," which introduces initiatives for integrating ESG into the Group's management strategies set forth in the "NYK Group ESG Story" and provides a partial explanation of the Group's sustainable growth strategy from a long-term perspective.

Many NTMA graduates contribute to the resolution of social issues in the region by providing materials and equipment necessary for education to support educational institutions, promote river restoration projects promoted with the San Miguel Group, and encourage ESG as a school providing future employment opportunities through the development of scholarship systems and other means. To strongly promote ESG management, the NYK Group will continue to actively engage in high-quality seafarer education and promote the creation of new value as a sustainable solution provider.

<The NYK Group ESG Story>
A guideline detailing concrete efforts to integrate ESG into management strategies of the NYK Group. Details: https://www.nyk.com/english/news/2021/esg-story_01.html

<The NYK Group ESG Story 2022>
Details: https://www.nyk.com/english/news/2022/20220324_01.html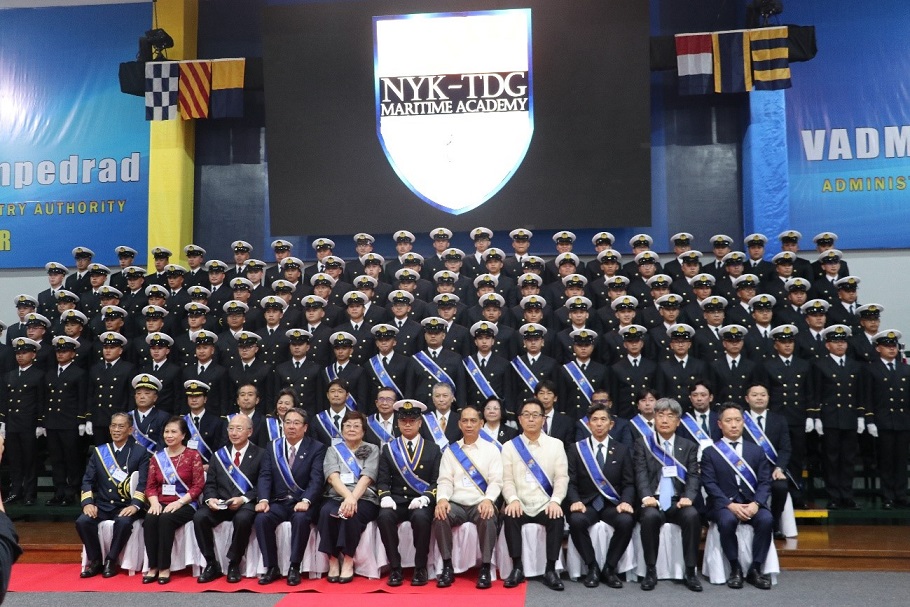 * Face masks were removed immediately prior to the photo.
Front row, from left, first Wilson P. Traviña president of NTMA;
third J. Roberto C. Delgado TDG chairman;
fourth Hitoshi Nagasawa, president of NYK;
seventh Robert A. Empedrad, vice-admiral of administrator of the Philippines maritime industry authority;
eighth Kazuhiko Koshikawa, ambassador extraordinary and plenipotentiary of Japan to the Republic of the Philippines;
ninth Tomoyuki Koyama, senior managing executive officer of NYK.

Outline of NYK-TDG Maritime Academy (NTMA)
Established: June 3, 2007
Number of students: 120 per academic year in two academic disciplines, 60 in marine navigation and 60 in marine engineering
Instructors and staff: About 70
Location: Canlubang, Calamba City (a suburban city about a one-hour drive from Manila) Curriculum: Four years (three years of academic study and one year of onboard training) Mission: To foster global seafarers through higher education by focusing on building an individual's sense of humanity and providing training in practical maritime technologies

*Transnational Diversified Group (TDG)
A business group established by Chairman J. Roberto C. Delgado. Business activities include vessel agent services, seafarer manning, training and cadet education, as well as other logistics businesses. TDG and NYK have maintained a cooperative relationship since the establishment of TDG.

Related Press Releases
The news on this website is as of the date announced and may change without notice.