NYK has donated printers and copy paper to Paaralang Sekundarya ng Lucban, a public school providing six years of secondary education* in the Lucban-Quezon region of the Philippines. A presentation ceremony was held on October 25.

In the Philippines, face-to-face classes had been suspended until today in principle except in some schools due to the spread of COVID-19. For schools in rural areas without stable internet access, online classes have been difficult to arrange, so remote classes are being conducted using modular teaching materials. In some schools, it has been financially difficult to arrange enough paper for all students, and thus the remote classes cannot be conducted smoothly.

In order to maintain equal educational opportunities in the Philippines, NYK has donated three printers and 150,000 sheets of copy paper in cooperation with IMO-ASTIG,** a Philippine non-profit organization established to support seafarers in the maritime industry, through a donation to the NYK-TDG Friendship Foundation, Inc.,*** a non-profit organization established to support the people of the Philippine.

The presentation ceremony at Paaralang Sekundarya ng Lucban was attended by education bureau and school officials, and related parties from NYK-FIL Ship Management Inc.**** and MarCoPay Inc.***** The education bureau and school officials expressed their appreciation for this support.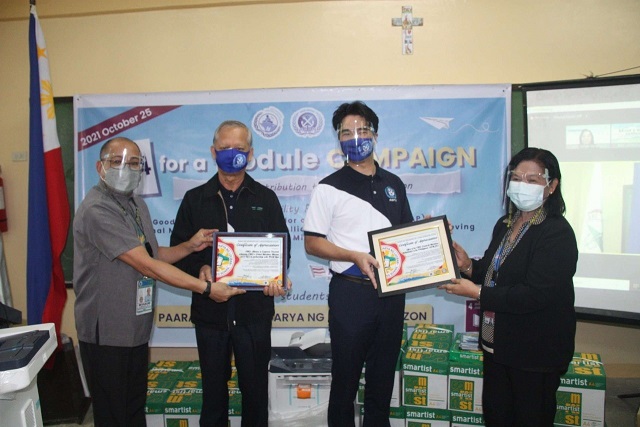 From left, Naldo Nanong, principal of Paaralang Sekundarya ng Lucban; Capt. Marcelo R. Raneses, vice-president of NYK-FIL; Capt. Kenji Hongan, NYK-FIL; and Dr. Jessie E. Quesea, Public Schools District supervisor of the Lucban District, Department of Education

On February 3, NYK released the NYK Group ESG Story, which aims to further integrate ESG into the company's management strategy and promotes activities that contribute to the achievement of the SDGs (Sustainable Development Goals) through business activities. The NYK Group will continue to provide support to the Philippines, the world's largest supplier of seafarers, as a way of returning the favor to the country with which we have a close relationship through business support and the recruitment and training of seafarers.

Based on the Group's corporate philosophy of contributing to the realization of a better global society, the Group will continue to aim for coexistence and co-prosperity with the international community in our effort to continue "giving back to the oceans, earth, and people."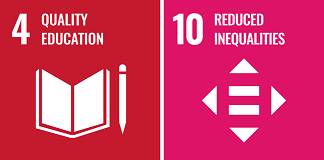 * In 2012, the Philippines introduced a new education system that now includes 12 years of basic education (six years of primary education followed by six years of secondary education).

** NYK-TDG Friendship Foundation, Inc.
Established in 1990 by NYK together with Jose Roberto Delgado, CEO of the Transnational Diversified Group (TDG), the foundation provides food, shelter, health care, education, etc. for street children in the Philippines.

*** IMO-ASTIG
A non-profit organization established in March 2020 to engage in various programs and social contribution activities with the aim of developing the maritime industry in the Philippines, with a focus on young navigators and engineers.
Website: https://imo-astig.org/

**** NYK-FIL Ship Management, Inc.
A joint venture established by NYK and TDG in 1989 for training, development, and management of Filipino seafarers on NYK-operated vessels. NYK-FIL now provides Filipino seafarers to more than 200 vessels managed by NYK.
Website: https://www.nykfil.com.ph/

***** MarCoPay Inc.
A venture company established in Manila, Philippines, in 2019 with the aim of solving the financial challenges faced by seafarers and related parties by building a platform that will lead to the stability and continued growth of seafarers who support the shipping industry. The fintech company now provides financial services, including electronic currency, through a mobile app, and is funded by NYK, TDG, and Marubeni Corporation.
Website: https://www.marcopayinc.com/

<NYK Group ESG Story>
A guideline detailing concrete efforts to integrate ESG into management strategies of the NYK Group.
Details: https://www.nyk.com/english/news/2021/esg-story_01.html
The news on this website is as of the date announced and may change without notice.