NYK will donate a total of $1.5 million over five years in support of the Pasig River and the Tullahan-Tinajeros River system cleanup efforts being implemented by San Miguel Corporation,* a major conglomerate in the Philippines. An online signing ceremony was held on November 19.

According to a study by Ocean Cleanup, a nonprofit organization based in the Netherlands, more than 360,000 tons of plastic waste is dumped into Philippine rivers every year, creating a major environmental problem.

Of these, the Pasig River, which crosses the metropolitan Manila area and flows into Manila Bay, is the most seriously polluted. Purification of this river is expected to improve environmental problems and reduce microplastic.**

San Miguel is currently dredging and cleaning the Pasig River, along with the Tulahan-Tinajeros River system, to mitigate flood damage and prevent the discharge of waste into the ocean. NYK's donation of $1.5 million will be used to purchase additional dredging equipment to support the project.

The online signing ceremony was attended by many people from the Philippines, including Ramon Ang, president of San Miguel; Roy Cimatu, minister of the Philippines Department of Environment and Natural Resources; and representatives from our group companies NYK-FIL Ship Management, Inc.*** and MarCoPay Inc.****

Mr. Ang expressed his gratitude for the donation, saying, "This kind gesture from NYK, led by its president, Mr. Hitoshi Nagasawa, shows that they care not just for the environment, but also their Filipino workforce. It is also further recognition of the importance of the task that we at San Miguel have set for ourselves--that of continuing efforts to reverse decades of pollution of our rivers. This way, we can safeguard lives and livelihoods from flooding, make our cities more livable, and protect our oceans and marine resources.

From NYK, President Hitoshi Nagasawa attended and commented, "As a global shipping and logistics company, protecting the marine environment is part of our DNA and something that we treat very seriously. ESG is the foundation for the NYK Group's aspiration to become a sustainable business entity, and we think that the project we are about to join is exactly in line with our future goals.".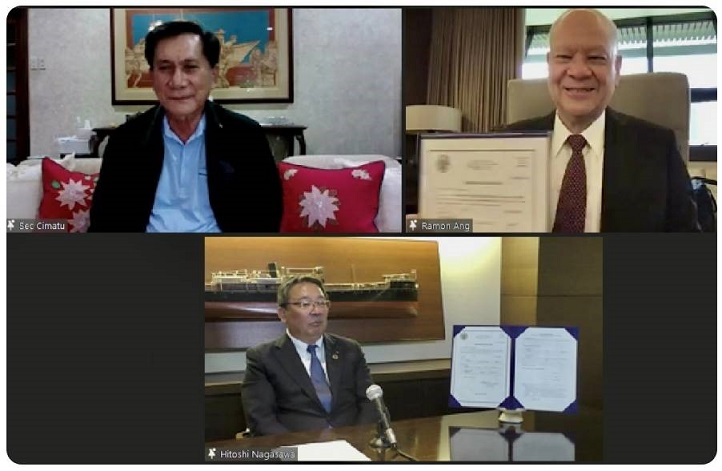 Top row, left to right)
Roy Cimatu, Minister of the Philippines Department of Environment and Natural Resources,
Ramon Ang, president of San Miguel
Front row)
Hitoshi Nagasawa, president of NYK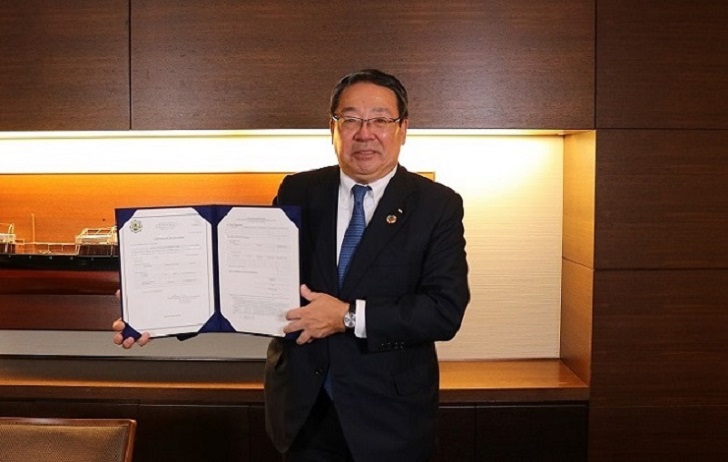 President Hitoshi Nagasawa with Certification

On February 3, NYK released the NYK Group ESG Story, which aims to further integrate ESG into the company's management strategy and promotes efforts that contribute to the achievement of the SDGs through business activities.

In October, NYK donated printers and copier paper to the Philippines for the purpose of maintaining educational opportunities, and we will continue to provide support to the Philippines, the world's largest supplier of seafarers, as a way of demonstrating our gratitude to a country with which we have a close relationship through business support and the recruitment and training of seafarers.

In addition, we have positioned microplastic pollution as a social issue that we should tackle as a way of "giving back to the oceans." This initiative is part of that.

Based on the Group's corporate philosophy of contributing to the realization of a better global society, the Group will continue to aim for coexistence and co-prosperity with the international community in our effort to continue "giving back to the oceans, earth, and people."
<Pasig, Tullahan rivers>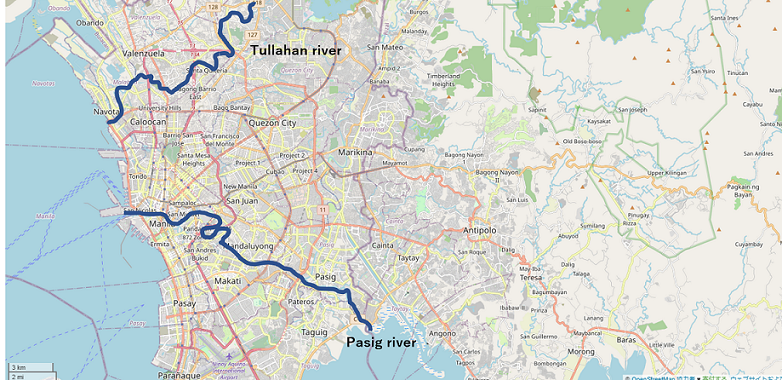 <Cleanup Process>

* San Miguel Corporation
A major conglomerate in the Philippines founded in 1890 as a beer manufacturer. It has since diversified into packaging, power, petroleum, infrastructure, telecommunications, real estate, aviation, finance, and other businesses in addition to beverages and food.
Website: https://www.sanmiguel.com.ph/

** Microplastic
Small particles less than 5 millimeters in diameter that are formed from plastic debris discharged into the ocean and broken down by UV radiation and waves. These particles are feared to not only generate ocean pollution but also impact the ecosystem. 

*** NYK-FIL Ship Management, Inc.
A joint venture established by NYK and TDG in 1989 for training, development, and management of Filipino seafarers on NYK-operated vessels. NYK-FIL now provides Filipino seafarers to more than 200 vessels managed by NYK.
Website: https://ttps://www.nykfil.com.ph/

**** MarCoPay Inc.
A venture company established in Manila, Philippines, in 2019 with the aim of solving the financial challenges faced by seafarers and related parties by building a platform that will lead to the stability and continued growth of seafarers who support the shipping industry. The fintech company now provides financial services, including electronic currency, through a mobile app, and is funded by NYK, TDG, and Marubeni Corporation.
Website: https://www.marcopayinc.com/

<NYK Group ESG Story>
A growth strategy detailing concrete efforts to integrate ESG into management strategies of the NYK Group.
Details: https://www.nyk.com/english/news/2021/esg-story_01.html
Related Press Release
The news on this website is as of the date announced and may change without notice.