Cutting-Edge Technology Approved by Classification Society DNV
Knutsen NYK Carbon Carriers AS (KNCC), an affiliate of NYK, received a General Approval for Ship Application (GASA) from the Norwegian classification society DNV for its Liquefied CO2-Elevated Pressure (LCO2-EP) containment system,* which can transport liquefied carbon dioxide (CO2) at ambient temperature. Receipt of GASA enables KNCC to fit the LCO2-EP systems on newly built vessels and retrofit the systems on existing vessels.

LCO2-EP technology enables liquefied CO2 to be injected into cylinder tanks on vessels and transported at ambient temperature in a stable condition.** Since the liquefied CO2 does not need to be cooled to cryogenic temperatures, LCO2-EP technology can reduce energy and costs incurred throughout the CCUS value chain.*** This advancement also enables easier handling of liquefied CO2 until injection into the reservoir.****

In April 2022, KNCC's PCO2® tank system received the world's first Approval in Principle (AiP) as a technology that can marine transport liquefied CO2 at ambient temperature. After that, KNCC changed the name of the PCO2® tank system to LCO2-EP and carried out detailed design and discussions with engineers, consultants, shipyards, and subcontractors to prepare extensive documentation, calculations, and drawings to prove the capability of the design to achieve the GASA.


In addition to LCO2-EP, KNCC is developing low-temperature and medium-temperature liquefied CO2 transport vessels to meet the needs of various projects. Through these initiatives, the NYK Group will participate in the CCUS value chain and contribute to the future realization of a carbon-neutral society.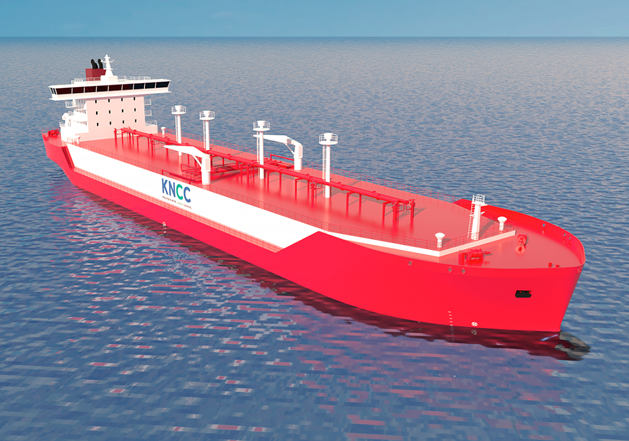 Image of a liquefied CO2 transport ship equipped with an LCO2-EP containment system
On March 10, 2023, the NYK Group released its medium-term management plan "Sail Green, Drive Transformations 2026 — A Passion for Planetary Wellbeing. " The NYK Group is promoting growth strategies with ESG at the core, based on the Group's basic philosophy of "Bringing value to life" and a new corporate vision for 2030, which reads, "we go beyond the scope of a comprehensive global logistics enterprise to co-create value required for the future by advancing our core business and growing new ones."

Related Sustainable Development Goals (SDGs)

* LCO2-EP technology allows liquefied CO2 to be transported over ambient temperatures (0–10°C) and under high pressure (35–45 bar).

** LCO2-EP effectively controls the phase-conversion risk, e.g., liquefied CO2 turning into dry ice, by injecting liquefied CO2 into cylinder tanks on vessels at ambient temperature. This system makes it possible to transport liquefied CO2 in stable condition.

*** CCUS refers to "carbon capture, utilization and storage" and is a process that captures CO2 released from thermal power plants, factories, etc. and either uses it in production processes for crops, chemicals, construction materials, etc. or stores it in a stable underground geological formation.

**** LCO2-EP can reduce the amount of energy because relatively little pressurization is required when injecting CO2 into the reservoir.
Overview of KNCC
Head Office: Haugesund, Norway
Business: Marketing and business development of liquefied CO2 transportation and storage
Investment Ratio: NYK 50%, Knutsen Group 50%
CEO: Anders Lepsøe
Website: https://www.kn-cc.com
Related Press Releases
The news on this website is as of the date announced and may change without notice.