Corporación Nacional del Cobre de Chile
NYK Bulk & Projects Carriers Ltd.
NYK

On November 24, Corporación Nacional del Cobre de Chile (CODELCO), one of the world's leading copper producers and a Chilean state-owned company, and NYK Bulk & Project Carriers Ltd. (NBP), an NYK Group company, signed a memorandum of understanding (MoU) to jointly study the decarbonized transportation of copper products. The two companies will jointly promote the evaluation and development of next-generation fuel technologies and study the use of decarbonized vessels for oceangoing transport of copper products.

Global demand for copper is expected to increase in the future due to the expected development of power grids for offshore wind power generation, the spread of electric vehicles, etc. CODELCO and NBP aim to contribute to the realization of a decarbonized society by transporting and supplying copper products by means of transportation having a low environmental impact.

The two companies will collaborate by taking advantage of each company's strengths and experience, with a view to involve third parties in the future, to decarbonize the supply chain of copper products.

Máximo Pacheco, Chairman of the Board, CODELCO:
"We have signed with NBP an MOU to jointly explore a technology based on next-generation fuels that allows us to advance in the decarbonization of the shipping transport of our products. This is a significant step for CODELCO in its desire to reduce the carbon footprint of its work, not only with respect to direct emissions, but also indirect emissions, as in this case."
Motoyuki Nose, President, NBP:
"We have deepened our relationship with CODELCO for more than 30 years, mainly through oceangoing transportation of copper products by bulk carriers. I am very honored to be able to work with CODELCO to promote joint studies in various fields toward the decarbonization of oceangoing transportation of copper products. We, as a specialized company in transportation using handy bulkers, multipurpose ships, heavy-lift ships, and self-propelled deck carriers, aim to contribute to decarbonization of the world in cooperation with customers by taking the maximum advantage of the knowledge and technology that the NYK Group has accumulated.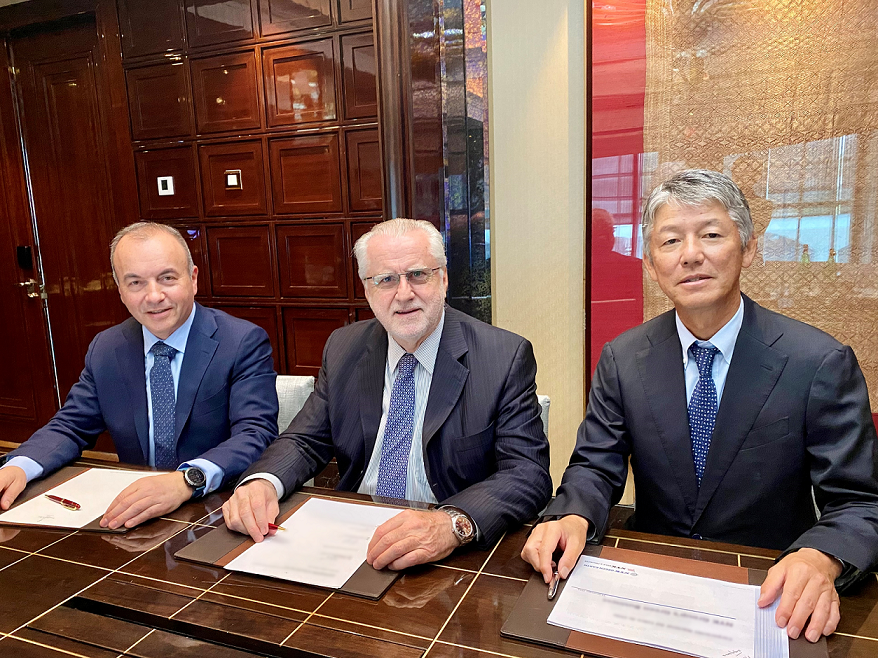 Signing ceremony
From left
Carlos Alvarado, Chief Commercial Officer, CODELCO
Máximo Pacheco, Chairman of the Board, CODELCO
Masashi Suda, Executive Vice President, NBP
About CODELCO
Codelco is the largest copper producer in the world. Its main activity is to explore, develop and exploit mining resources; process them to produce refined copper and by-products, and market them to customers around the world. From the Nationalization in 1971 to 2021, it has generated surpluses of US$142 billion for the State of Chile (in 2021 currency). It has assets of US$43 billion and equity of US$11.6 billion as of December 2021. It operates in seven mining divisions in Chile: Chuquicamata, Ministro Hales, Radomiro Tomic, Gabriela Mistral, Salvador, Andina and El Teniente, in addition to the Ventanas Smelter and Refinery.
Website: http://www.codelco.com

About NBP
NYK Bulk & Projects Carriers Ltd. was established on October 1, 2013, as the product of a merger between NYK-Hinode Line Ltd. and NYK Global Bulk Corporation. NYK-Hinode Line Ltd. was one of the pioneers of heavy lift carriers, and NYK Global Bulk Corporation has played a significant role in the industry as one of the world's largest specialists in handy bulk carriers. We now provide our customers with first-rate services around the world by leveraging both companies' advanced maritime know-how, technology, and experience. We competitively operate various types of vessels to expand and develop services of all kinds to meet and exceed our customers' needs and market demands.
Website: https://nbpc.co.jp/en/

About NYK
Nippon Yusen Kabushiki Kaisha (NYK) was founded in 1885 and is one of the world's leading transportation companies. At the end of March 2022, the NYK Group was operating 814 major ocean vessels, as well as fleets of planes and trucks. The company's shipping fleet includes 354 bulk carriers, 118 car carriers, 55 containerships (including semi-containerships), 85 LNG carriers (including those owned by equity method affiliates), 68 tankers, 37 wood-chip carriers, one cruise ship, and 96 other ships (including shuttle tankers and multipurpose and project cargo vessels). The NYK Group is based in Tokyo, employs about 35,000 people worldwide, and has regional headquarters in London, New York / New Jersey, Singapore, and Shanghai. On February 3, 2021, NYK announced the "NYK Group ESG Story," which aims to further integrate ESG into the company's management strategy. In order to continue to be a corporate group that remains essential to society and industry, the NYK Group aims to be a sustainable solution provider that creates new value while maximizing profits and achieving social and environmental sustainability from a long-term perspective.
Website: https://www.nyk.com/english/

Further information
Contact • CODELCO
Email: prensa@codelco.cl

Contact • NBP, Bulk Career Group No.1
Telephone: +81-3-3284-6761

Contact • NYK, Corporate Communication Group, Media Relations Team
Telephone: +81-3-3284-5190; email: NYKJP.ML.MEDIA@nykgroup.com


The news on this website is as of the date announced and may change without notice.