On November 15, NYK Shipmanagement Pte. Ltd.* (hereinafter referred to as NYKSM), an NYK Group company, held a ceremony at the Swissotel in Singapore to celebrate its 21st anniversary. NYKSM's 20th anniversary fell on October 1, 2021, but due to measures to prevent the spread of COVID-19, a ceremony was not held.

This year's ceremony was attended by about 100 guests, including Japanese ambassador to Singapore H.E. Hiroshi Ishikawa, Panamanian ambassador to Singapore H.E. Luis Alberto Melo, officials from the Maritime and Port Authority of Singapore (MPA)** and Singapore government, maritime-related parties, and business partners.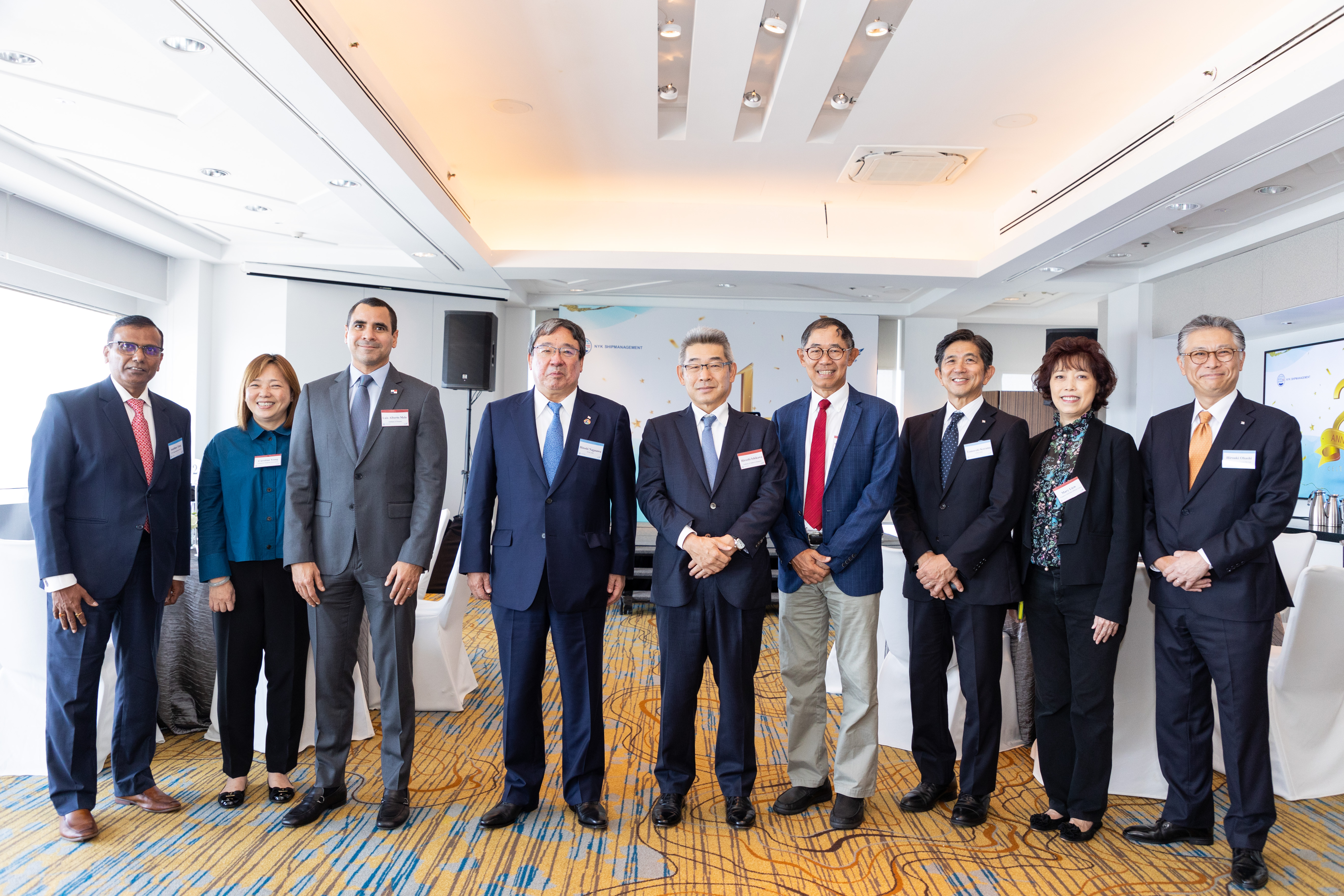 From left,
Anubhav Garg, Managing Director and Chief Operating Officer, NYKSM
Caroline Yang, President, Singapore Shipping Association
Luiz Alberto Melo, Ambassador of Republic of Panama to Singapore
Hitoshi Nagasawa, President, NYK
Hiroshi Ishikawa, Ambassador of Japan to Singapore
Niam Chiang Meng, Chairman, Maritime and Port Authority of Singapore
Tomoyuki Koyama, Senior Managing Executive Officer, NYK
Mary Liew, General Secretary, Singapore Maritime Officers' Union
Hiroaki Ohashi, Chairman and Chief Executive Office, NYKSM
In his greeting to the attendees, NYK president Hitoshi Nagasawa offered his appreciation to Singapore maritime-related parties for their constructive cooperation with NYK in the midst of various issues such as crew changes, vaccinations, ship supplies, etc. during the COVID-19 pandemic. He also praised NYKSM employees both onshore and on board for their hard work in expanding activities to accelerate ESG management within the NYK Group, such as through safe operation and increasing the number of staff to nearly 300 in Singapore, India, Croatia, Romania, the Philippines, and Malaysia.

NYKSM was established in 2001 in Singapore by integrating three NYK Group ship-management companies. While positioning Singapore as an important management base, a branch office was opened in Manila, Philippines, in 2012 to assist with securing human resources, and a base was established in the suburbs of Delhi, India, in July 2022 to decentralize management bases. NYKSM is currently managing ships using new technologies, such as LNG-fueled ships, methanol-fueled ships, and LPG-fueled ships, and is working together to achieve net-zero emissions by 2050 for oceangoing businesses.

In February 2021, NYK released the "NYK Group ESG Story," which aims to further integrate ESG into the company's management strategy and promotes activities that contribute to the achievement of the SDGs through business activities. In March this year, NYK released the updated "NYK Group ESG Story 2022," which introduces initiatives for integrating ESG into the Group's management strategies set forth in the "NYK Group ESG Story" and provides a partial explanation of the Group's sustainable growth strategy from a long-term perspective. To strongly promote ESG management, NYK will continue to create new value as a sustainable solution provider.

<The NYK Group ESG Story>
A guideline detailing concrete efforts to integrate ESG into management strategies of the NYK Group. Details: https://www.nyk.com/english/news/2021/esg-story_01.html

<The NYK Group ESG Story 2022>
Details: https://www.nyk.com/english/news/2022/20220324_01.html
* NYK Shipmanagement Pte. Ltd.
Established in 2001, NYK Shipmanagement Pte. Ltd. is a wholly owned NYK Group subsidiary based in Singapore. As the core of the Group's ship management, the company dispatches seafarers to and manages ships operated by the NYK Group.

** Maritime and Port Authority of Singapore (MPA)
A government organization run by the Singapore Ministry of Transport responsible for overseeing sectors that include maritime transport, maintenance of security, management of ports, improvement of maritime law, and the management of Singapore-flag ships.

The news on this website is as of the date announced and may change without notice.