NYK has made donations to five charities engaged in activities that promote education and provide support to children.

NYK has a volunteer point system that was introduced in 2014 to encourage greater participation by the group's officers and employees in activities that contribute to society. Points are granted for each form of contribution made, and the company then tallies the points annually, converts them to a monetary amount, and makes donations to organizations that are selected through voting by participating volunteers.

During the 2021 calendar year, 193 officers and employees from 24 group companies participated in this volunteer system. The top three volunteers who tallied the most volunteer points received individual awards, and a special award was granted to a volunteer who participate in "Satoyama" conservation activities.

In addition, Mitsubishi Ore Transport Co. Ltd., Asahi Shipping Co. Ltd., and YCS Co. Ltd. received top three Group Awards for their active participation. The special Group Award was given to Sanyo Kaiji Co. Ltd., which donated surplus calendars and conducted tugboat demonstrations for the public.

NYK president Hitoshi Nagasawa gave a speech at the online ceremony, commenting, "I believe that the volunteer activities engaged in by all of you who received awards today are in line with the NYK Group ESG Story's 'Return on Earth,' which is about giving back to the sea, giving back to the earth, and giving back to people. I think the most important thing is for each of you to follow your own heart and do your own activities. I would be very happy if you would actively participate in group-wide activities too. I would like to make these activities more exciting for all of us in the group, so please continue your activities."

NYK will make every effort to remain a good corporate citizen and promote ESG management by working to solve various social issues.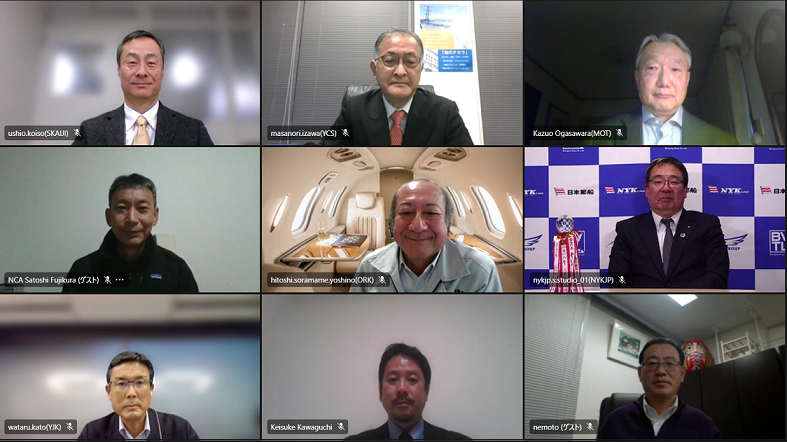 President Hitoshi Nagasawa, second row, right, with the winners
The below five organizations, which are engaged in activities promoting education and providing support to children, were selected to receive donations.
NYK's The Challenge to Solve Social Issues
The news on this website is as of the date announced and may change without notice.