NYK has been of assistance to the Miniboat Program* organized by the Columbia River Maritime Museum in the U.S. state of Oregon as part of the NYK Mirai Project.**

The Miniboat Program is a marine education program in which students in grades 5 to 7 in the Pacific Northwest and Japan interact through observations of miniboats released into the Pacific Ocean. This program started in 2017 after the Great East Japan Earthquake and ensuing tsunami caused a part of a torii gate from Itsukushima Shrine in Hachinohe City to wash ashore in Oregon. Afterward, the gate was returned to Japan.

Libra Leader, a car carrier operated by NYK, carried two miniboats created by children in the U.S. and released them at points in the Pacific Ocean (see image below). The children will now monitor the boats drifting using GPS installed on each miniboat, one named "Nate the Great" and the other named "Kimura-sensei."

Through this program, children are able to acquire a variety of knowledge in science, technology, engineering, art, and mathematics.

NYK agrees with the purpose of this program and has decided to be of assistance in the hope that it will encourage children to take an interest in the shipping industry, which they might not be familiar with. 

The company looks forward to continuing the NYK Mirai Project to promote interest in and familiarity with the shipping industry and ships among the children who will lead the next generation.

Miniboat Program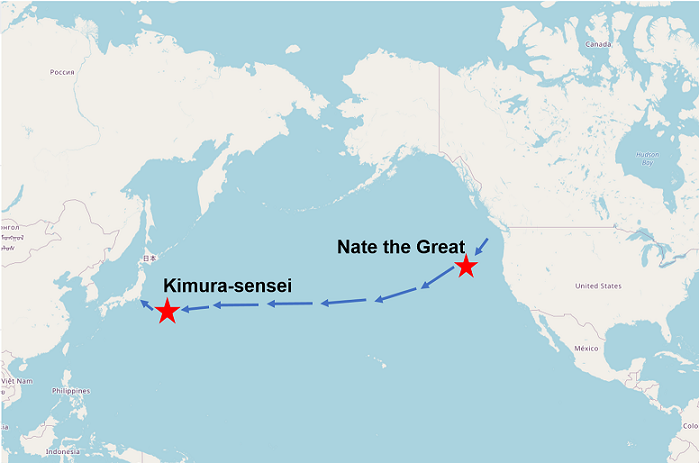 Libra Leader route and miniboat release points

* Miniboat Program
A marine education program to increase interest in the ocean by releasing small GPS-equipped miniboats into the ocean and observing their drifting status.
Website: https://www.crmm.org/miniboat-program.html

** NYK Mirai Project
An activity to convey the close connection between the maritime industry and society to the generation that will be responsible for the future, as well as to promote understanding of oceangoing shipping and the work of seafarers involved in it, not only among children but also among stakeholders and the general public. Main activities include classes by seafarers, participation in work-experience events, terminal tours, and public viewings of ships.
The news on this website is as of the date announced and may change without notice.